We know mattress shopping can be daunting, and it is important that you get it right. Our simple 4 step guide has been designed with the sole intention of helping your to find your perfect fit.
STEP 1: Size matters! Find the mattress size that's right for you.
Sleep is essential to everyone's health and well-being, but how many of us realise that the space where we choose to sleep has not necessarily changed in size since we were babies in the cradle? The width of the average cot is approximately 75cm. A standard double bed, one of the most popular sizes in the UK, measures 135cm wide. If you share your bed that's just 67.5cm each! It's a fact, the more space you have to sleep in, the better your night's rest will be.
To help you make the right choice here are some useful facts and figures.
Standard Mattress Sizes
But what if you need something different?
The mattresses sizes we've shown you so far are the most popular ones you can buy, but we know they may not meet the needs of every customer. At TEMPUR® we manufacture a range of alternative mattress size options to ensure you find one just right for you.
Alternative mattress size options
Here are a few of our non-standard size options:
If you are tall we offer long single and long double mattress options.
TEMPUR® also make two lengths in a small double size (120cm x 190cm and 120cm x 200cm). These are designed for sleepers who want more space that you get sleeping a single, but do not have quite enough room for a standard double (135cm wide).
If you own a continental bed frames or antique bed base, we also make a 160cm x 200cm euro king size.
And if you are considering an adjustable bed base with dual mechanisms which rise and fall independently we can offer you a pair of small single (75cm x 200cm) equivalent to a king size, or a pair of long singles (90cm x 200cm) equivalent to a super king so each sleeper has their own mattress. Click below for more information
STEP 2: Soft, medium or firm? What type of mattress should you buy?
Mattress comfort, support and pressure relief are crucial to you getting a great night's sleep. Finding your perfect fit, however, is influenced by your shape, weight, health condition, favourite sleeping position and personal preference.
What are the options?
It is important to state here that there is no hard and fast industry guidance.Generally speaking mattresses are described by feel as soft, medium or firm. Ultimately it all comes down to what you like, which is why when you order direct from TEMPUR® either online or at one of our official brand stores, we offer you the chance to take our 100 night mattress trial. Love it or send it back! If it wasn't quite right first time, we give you the option to exchange your first choice for another which you think will suit you better.
Choosing the right feel - the basics.
The information table below is designed to give a general indication of which mattress feel is most likely to suit a particular sleeper and/or body type. As every one's body shape and sleep needs are unique, these are suggestions only. Ultimately you decide what is right for you. The difference when choosing TEMPUR® is all our mattresses are engineered to suit all body shapes and sizes, whether you like soft, medium or firm.
Support
Comfort Or Feel
Sleeping Position
Sleeper Frame Size
Soft
Popular with side
sleepers
Lighter frames –
usually 10 stone or less,
whereas TEMPUR® suits all shapes and sizes
Medium
All positions: front,
side and back
Average frames –
10-15 stone,
whereas TEMPUR® suits all shapes and sizes
Firm
Preferred by front and
back sleepers
Heavier frames –
more than 15 stone,
whereas TEMPUR® suits all shapes and sizes
All TEMPUR® mattresses are suitable for all sleeping positions. Our products are available to try in stores nationwide. Use our store locator to find a stockist local to you and feel a TEMPUR® mattress for yourself.
STEP 3: How to clean your mattress and care for it
Here are two great reasons why you should consider TEMPUR®.
i) Removable mattress covers. (Additional spare covers optional extras.)

The great thing about TEMPUR® mattresses is they all have removable covers for airing. The majority are also washable at up to 40°C or 60°C depending on the one you choose. All are designed so you can keep your bed nice and fresh. Click here for cleaning and care instructions for our popular Elite and Luxe models and their QuickRefresh™ top covers. Click here for cleaning and care instructions for our Supreme mattresses. If the model you are considering is not listed here, be assured every TEMPUR® mattress cover has a care label stitched inside to guide you.
ii) No turning required

All TEMPUR® mattresses are no turn! No heavy lifting is involved because you don't need to flip our mattresses over! Each model is constructed in layers so you sleep on the top side only. Advances in TEMPUR® technology have resulted in keeping maintenance to a minimum
STEP 4: What's compatible? What bed frame works best with a TEMPUR® mattress?
Choosing the right bedframe is just as important as choosing the right mattress. We can offer you a wide choice of bed frames and bases, ranging from classic divans or ottomans with practical storage solutions alongside stylish frames, both standard and adjustable. All have been designed to optimise the performance of your TEMPUR® mattress. Whatever you decide to do, to ensure you make the right choice here are some points to help you.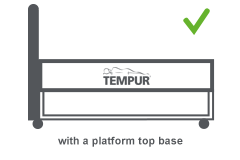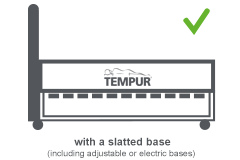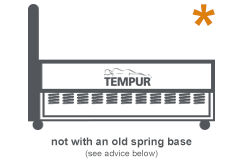 *We do not recommend you place your new TEMPUR® mattress on a spring bed base unless it is under 5 years old and in good condition. It is vital support for your mattress is level and free of dips or hollows which can occur from prior use.
For more information and tips about choosing a bed frame, please click on the link below to view our buying guide
More good reasons to buy direct from TEMPUR®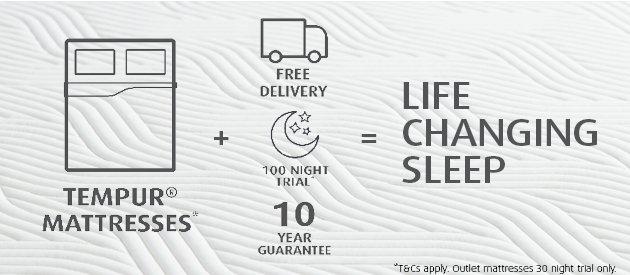 The one thing that all conventional (spring, waterbed, foam) mattresses have in common is that they force the user to conform to them. With TEMPUR®, the mattress actually conforms to the body.
Engineered to conform to your body shape, when you lay on a TEMPUR® mattress, not only will you experience pressure relieving properties, but also support where you need it for true, restful sleep.
YES! With our 100 night trial you can try out a TEMPUR® mattress from any of our current collections listed online with the exception of products found in the Outlet section. (Unless indicated otherwise, mattresses listed in Outlet are excluded from our extended home trial.) We are confident you will love your new bed, but if you change your mind, simply get in touch and we will arrange to collect your order from you. Currently returns from a UK Mainland address are free, In the event this service is chargeable, the cost would be £72.00. We recommend you retain both your packaging and old mattress until you are certain TEMPUR® is the right sleep solution for you. Please see our Returns Policy for further details.
One of the advantages of owning a TEMPUR® mattress from our current collections* is that most models have removable washable covers. You can unzip, remove and machine wash the whole cover at up to either 40°C or 60°C depending on the mattress you have chosen. (This task is easier with two people.) In addition our Elite and Luxe models have been designed with QuickRefresh™ tops. This means you only need unzip, remove and wash the top layer which you directly sleep on. It is important when you launder your mattress cover that you always follow the manufacturer's instructions which can be found on a label stitched inside.
Should you wish to purchase a replacement or spare cover for your mattress in the future, please contact us for a quotation. We will need to know the exact model and size you purchased to ensure you receive the correct one. We also recommend the use of a TEMPUR® Mattress Protector to keep your bed nice and fresh.
*Because we are always looking to improve our products, TEMPUR® owners of older models including those with Soft-Touch™ covers, should check the care instructions of their mattress carefully. Some models such as the TEMPUR® Celebrity 31 could have covers which cannot be removed or washed. For Soft-Touch™ models with a QuickRefresh™ removable top, please note this is only for airing your mattress. It may not be laundered.
As a general rule of thumb, if your mattress has TEMPUR® Material embedded or quilted into the cover (this applies to the majority of older 'Deluxe' models and all Soft-Touch™ models,) while it may be removed for airing, it is not washable. Any subsequent washing will invalidate your guarantee.
If you are not sure, please call us on 0800 0111 083 during regular office hours for further advice. You may also find some use hints and tips on our Caring for TEMPUR® page.
We would not recommend using an electric blanket with a TEMPUR® mattress as the mattress works best with your natural body heat, so you may not feel the optimum support if an electric blanket is used. However, if you would still prefer to use an electric blanket, we would suggest an over blanket rather than an under blanket. An over blanket will be perfectly safe to use. Please ensure it is not more than 10 years old and in proper working order.
The TEMPUR® pressure relieving material is composed of billions of viscoelastic spherical shaped, open cells. The cells respond to your body temperature and weight then shift and re-organise their position to mould to the exact contours of your body. It becomes softer in warmer areas (where your body is making the most contact with the surface) and remains firmer in cooler areas (where less body contact is being made). Due to the removal of pressure, blood is able to flow freely throughout the night, making you toss and turn less - in other words - you get a better night's sleep.
We get this question often, but in fact, sleeping warm on a TEMPUR® mattress is not an issue that our owners raise frequently. Our mattresses are designed to respond to your body temperature, which activates their ability to conform to your body, offering support and reducing pressure points. It is worth noting that with the improved support and reduced pressure points on your body, sleeping on our mattresses can help increase circulation, so you may find you need lighter bedding. If you feel warmer, try using a lower tog duvet, breathable bedding and keep your room well ventilated.
At the heart of each mattress and pillow we create is our iconic TEMPUR® Material, born from NASA technology. In the late 60s, NASA scientists invented a completely new material that was then used onboard the Space Shuttles. Our founders realized the material's unique potential. So they took that original NASA invention and spent years perfecting it into TEMPUR® Material and created the world's first viscoelastic mattress and pillow.
First proving its value in the healthcare sector, TEMPUR® is now found in bedrooms around the world, transforming the sleep of millions. It's why we're the only mattress and pillow brand recognised by NASA for improving the quality of life. This honour sets us apart, keeps us humble and inspires us to continually innovate, for sleep that's out of this world - and it all started with those original NASA scientists.
1. One of the most reliable indicators of a mattress's comfort is the frequency of night time body position changes - tossing and turning. The fewer times you move, the better sleep you have.
2. Many people believe that waterbeds give you almost perfect support by allowing your body to 'float' in a natural position. In fact, due to displacement the waterbed creates what experts call the "hammock effect." This is an unnatural and unhealthy curve of the spine resulting from improper support. The TEMPUR® mattress allows your spine to rest in its natural position, giving you optimum sleeping posture and comfort.
3. Fully sprung mattresses covered by quilted thickly padded ticking mean you are lying on row after row of coiled sprung metal. This often creates pressure points that can cause painful joints and an aching back. The viscoelastic material in the TEMPUR® mattress moulds to your body, adjusting to your body weight, and distributing it evenly, reducing pressure and providing maximum support. Our TEMPUR® Hybrid Collection incorporates Precision™ Micro Coils in the base layer for those customers who prefer a faster response, but want the benefits that TEMPUR® Material brings too.
4. Several copy visco mattresses are available today, but they are not viscoelastic and do not have the density of the TEMPUR® Material or its durability of 10 years. The TEMPUR® open cell viscoelastic material moulds to the exact contours of your body, giving you maximum support and pressure relief where you need it most.