SELECTING THE RIGHT BED BASE FOR A TEMPUR® MATTRESS
---
How to choose a bed frame?
Of course we can offer you a wide choice of bed frames and bases, ranging from classic divans or ottomans with practical storage solutions alongside stylish frames, both standard and adjustable. All have been designed to optimise the performance of your TEMPUR® mattress. Whatever you decide to do, to ensure you make the right choice here are some points to help you.
TEMPUR® mattresses work best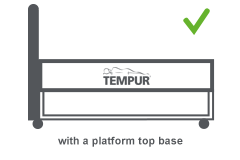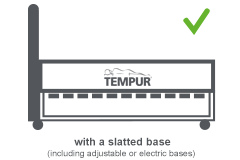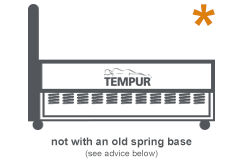 TEMPUR® mattresses must always be placed on a well-ventilated bed base or frame with feet, castors or legs to allow air to circulate freely, preventing moisture from accumulating
Bases with sturdy platform tops or slats (no more than 90mm apart) work best in terms of support and airing, check everything is level before you put your mattress on to use
*We do not recommend you place your new TEMPUR® mattress on a spring bed base unless it is under 5 years old and in good condition. It is vital support for your mattress is level and free of dips or hollows which can occur from prior use
We also recommend when making up your bed, you do not use a valance between your mattress and chosen bed base as this can restrict air flow to your mattress
Please do not place your TEMPUR® Mattress on the floor for sleeping. It is not designed to be used in this way. Doing so may invalidate your guarantee.
We know this is a big decision so if you need extra help, please contact us. We want to ensure you've match your mattress with the perfect bed base.
See all mattress collections