What does it mean when you buy a TEMPUR® Refurbished Mattress, Topper 7 or Pillow?
---
Our Online Outlet Policy
The TEMPUR® Online Outlet Store offers an ever-changing assortment of mostly reconditioned returned, ex-display, imperfect or discontinued products at reduced prices.
All reconditioned TEMPUR® products undergo a strict evaluation and refurbishment process before they are released for sale to ensure they meet our quality control standards. There may be minor marks or imperfections in the item you receive but be assured it will be safe and clean to use. Mattress and pillow covers will have been washed at temperatures of up to 60°C.
A certificate confirming you have purchased a genuine TEMPUR® product will be included inside the packaging. It is the responsibility of the purchaser to complete the blank fields on this document to validate it. Please retain your certificate along with your receipt for future reference. It may assist you in the unlikely event of you needing to make a claim under your guarantee.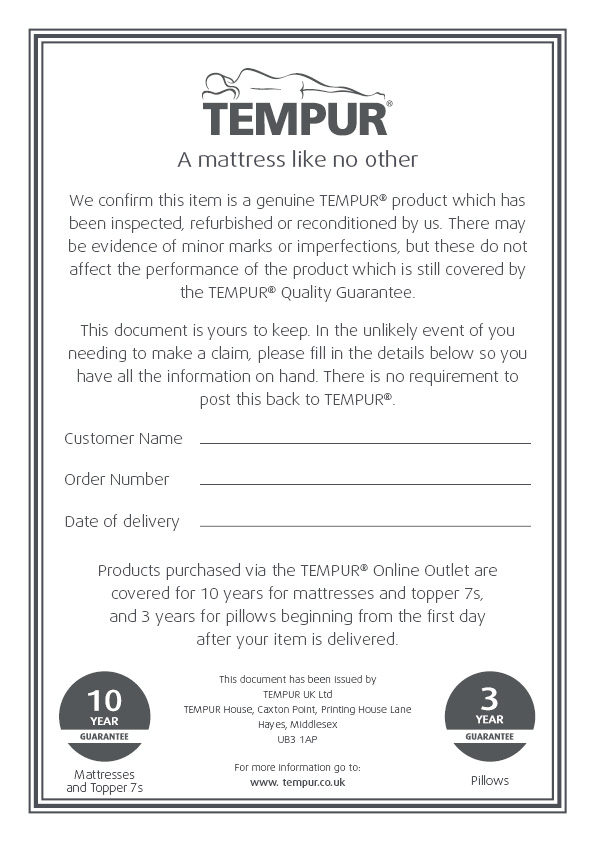 FAQs for TEMPUR® Outlet Products
Q: What is a TEMPUR® refurbished product?
A: In the main, refurbished TEMPUR® products have either been previously sold directly by TEMPUR® or via one of our stockists and subsequently returned. Often this is after a home trial where the consumer has changed their mind about the feel of their mattress and chosen another model better suited to their needs. Another reason may be that an item has incurred minor cosmetic damage during handling. Occasionally the item may be an ex-display model which has been on show in one of our own stores or at an authorised stockist.
Q: How are TEMPUR® products refurbished?
A: Each product is evaluated under a strict set of guidelines by a member of the TEMPUR® team to ensure it is safe to use. Covers will have been removed and washed at temperatures of up to 60°C to refresh them before the item is made available for sale.
Q: How are refurbished products repackaged?
A: All mattresses and toppers purchased from the TEMPUR® Online Outlet are repackaged before they are dispatched. Each one is double bagged to keep it clean whilst in transit.
For pillows, where possible, we will recycle the original packaging, provided it is clean and intact. Occasionally boxes used may show signs of cosmetic damage, but this will not impact on the future performance of the product contained within.
Q: Can I return a refurbished product?
A: Yes. This service is free. If you decide TEMPUR® is not for you, we have a 30 night money back returns policy for refurbished mattresses and toppers, and 14 nights for pillows. This is subject to the item you are returning, being received back at our distribution centre in the same condition as when it was dispatched. Once it has been successfully checked and re-inspected, we will be in touch regarding your refund. To find out how our returns process works, go to our Returns page.
Q: Do all TEMPUR® refurbished products come with a guarantee?
A: Yes. All of our refurbished products are covered by the TEMPUR® Quality Guarantee, exactly the same as our new products. That's 10 years for a mattress or topper, and 3 years for a pillow. To discover more visit our Quality Guarantee page.
Q: My mattress has been delivered but it looks different to the one in the image on the website? Why is this?
A: Covers may vary from the one shown on our website. We will supply the item you have purchased or the nearest equivalent which may be a higher specification at no extra cost to you. The decision to send an upgraded item is dependent on what is available at the time you place your order. Each listing shows the minimum specification you can expect to receive. Our refurbishment programme operates on a first come first served basis. We do not offer a reservation service for items listed in Outlet.
Q: I want a specific mattress, topper or pillow, it is listed but it is not available, why?
A: We release refurbished products for sale only after final inspection has been completed. Availability is very much dependent on what has come back to us at any specific point in time. These items sell quickly. All we can advise is just keep checking and don't delay ordering if the right item for you shows as in stock.